Homophobia hurts everybody.
We can stop it.
Be Our Ally
A violence prevention program for youth
to foster diversity and respect for difference.
Learning through theatre, music and photography
Grades 5 – 12
"remarkable and memorable"
On Tour April – May 2015
A play, photographic exhibition, music and workshops are at the heart of Be Our Ally.
"Be Our Ally" (BOA) teaches youth about homophobic bullying, how homophobia hurts us all, and how we can all take action to prevent victimization and create a social willingness to change. BOA gives new words and voices to LGBTQ youth, and energizes others to be allies. It is shameful that we live in a society where people who are seen to love "differently" are targets of hate crimes and discrimination. We believe that we must begin to reshape the words and values that create victims of hate crimes in the LGTBQ community.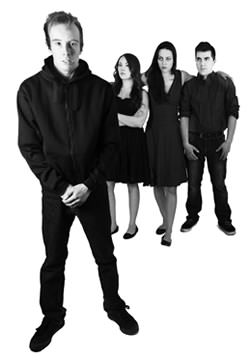 The Play: The 75-minute play explores the struggle of LGBTQ youth and the impact of bullying and homophobia.
The Story: When Tommy asks Zack to the school dance, he is taunted and beaten up by the "cool" kids, betrayed by Zack and unsupported by his family. His thoughts turn to suicide and Zack is tormented by guilt. Who will help him? His friends? Strangers? You? In this interactive drama, audience members help to confront his tormentors and change the situation for the better.
The Fee: $800
Beyoutiful: Download Beyoutiful on iTunes | Download Beyoutiful on CDBaby
"Don't be afraid to be who you are, don't be afraid to shine like a star…"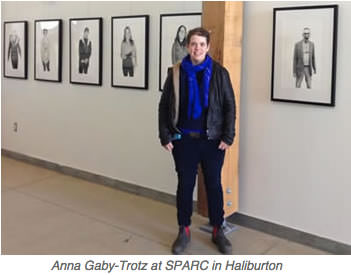 Photographic Exhibition: These images by Anna Gaby-Trotz are portraits of LGBTQ youth and their allies. The exhibition, supported with audio messages, sheds light on the strength, fragility and resiliency of youth, including youth of different sexual orientations, and their allies in our community. Observers comment: "powerful", "real", "they look just like people".
The exhibition has been at the Tom Thomson Art Gallery, the SPARC Conference at the Haliburton School of the Arts, Rail's End Gallery (Haliburton), and opened Lift Ground Print Studio/Gallery, Huntsville. It can come to you.
Fee: $200 plus travel if required
Workshops are available with Sheatre's artists to intensify awareness and positive action. No arts experience necessary. Everyone is welcome.
Fee: $200 plus travel if required
"some days are bad; imagine the best"
Do something fun and use your creative juices. What do oppression and friendship really look and feel like from your point of view? Play with theatre improvisation and music as we look at the dark side, and try to sculpt the ideal world where inclusion is the norm. 75 minutes. Facilitated by: Joan Chandler (theatre director) and david sereda (singer-songwriter) of Sheatre
Songwriting Workshops:
There's immense power when people share ideas, fill blackboards with them, turn them into a song or a scene… In each project we work on, the voice of the participants is central. Collaboration with the artists helps to get the ideas, the feelings and the voices out too. From the moment of "let's do this!" to "It's actually happening!" there's a huge amount of learning, listening, building, exploring and refining from all concerned. 75 minutes
To inquire or to book Be Our Ally please contact:
Be Our Ally was made with 57 youth in Grey-Bruce-Owen Sound, facilitated by Joan Chandler, david sereda and Anna Gaby-Trotz. It toured to six Grade 5–12 in Bluewater schools and 2 community venues in April – May 2014. In spring 2015, 6000 youth are participating in the theatre forum play in Ontario.
Curriculum Links

Be Our Ally supports both elementary and secondary curriculum. In particular, Be Our Ally addresses "Creating Pathways to Success" mandatory Ministry program and "Foundations for a Healthy School: a Supportive Social Environment". A few specific curriculum examples are:
Grade 7 & 8 Health: expectations include sources of support as related to healthy sexuality issues;
Grade 9 Health: demonstrate understanding of how to use decision-making and assertiveness skills effectively to promote healthy sexuality; demonstrate the appropriate steps of conflict resolution in situations encountered in class, at school, with friends, and at home;
Grade 10 Drama: demonstrate the appropriate steps of conflict resolution in situations encountered in class, at school, with friends, and at home;
"Be Our Ally fits in well with our priority to ensure the well-being of students and staff in a safe, supportive environment for teaching, learning and working. This project will play a significant role in our efforts to educate students about our LGBTQ community and homophobia."Lori Wilder, Superintendent of Education, Bluewater District School Board
CAST
JOSH CRUDDAS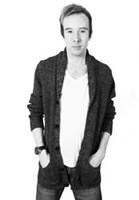 Originally a 6-year-old radio host from Nova Scotia, Josh (now slightly older than age 6) moved to Toronto last year. Film/TV credits include Rookie Blue (ABC/Global), Call Me Fitz (HBO), Titanic: The Aftermath (Discovery USA) and a starring role alongside two-time Oscar nominee Peter Fonda in Copperhead for Warner Bros. On stage, he's been fortunate to play leading and supporting roles at most professional theatres in Nova Scotia. Josh also teaches acting to kids, is a SOCAN Award-winning film music composer working in Los Angeles and across Canada, and was nominated for a 2013 ACTRA Maritimes Best Actor Award for Copperhead. A graduate of Dalhousie University's Acting Programme, Josh is honoured to be working with an amazing team to tell a vitally important story in Be Our Ally. Josh appears courtesy of Canadian Actor's Equity Association.
www.joshcruddas.com

TONY BABCOCK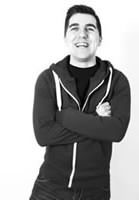 Tony Babcock is an actor, director and acting coach from Toronto Ontario. He is thrilled to be part of Sheatre's "Be Our Ally", and to help tell a very important story! Selected theatre credits include Junior in "Escape from Happiness" (Red Sandcastle Theatre), Jamie in "Death on the Bridle Path" (Edmonton Fringe), and Algernon in "The Importance of Being Earnest" (The Grand Theatre). Tony is a host on Teletoon, a lead on the kids' TV show "Beyblade" and recently starred in the film "Treatment" with Orphan Black's Kristian Bruun. For more, please visit
tonybabcock.com

EVA BARRIE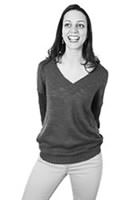 Eva is thrilled to be joining the wonderful artists at Sheatre! Originally from Okotoks, Alberta, she is currently a Toronto-based director, actor and creator and has created art in Germany, India, Italy, Poland, Canada and the United States. She is a graduate of Ryerson University's Performance Acting Program and has trained with Anne Bogart's SITI Company in Saratoga Springs, NY and New York City, NY. Last fall she was the Co-Program Director of Nightwood Theatre's Young Innovators Lab, a lab celebrating alternative theatre-making. Most recently, she produced and performed in Sarah Ruhl's Melancholy Play. She has directed diverse shows in Toronto, been a dramaturge for new works and has assisted directors such as Alan Dilworth ("The Biographer"). Her writing has been supported by the Ontario Arts Council and she was lucky to have her play "Olga" read at Tarragon Theatre's "Rehearsal Hall" (director: Andrea Donaldson). She makes a mean cheesecake and can carry a tray like one of the pros.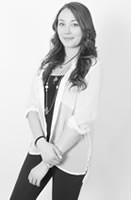 TRYSTEN METCALFE-MOULTON
Trysten is 18 and from Owen Sound, Ontario. Her hobbies include guitar, singing/song writing, and acting as well as the visual arts. However most of her time is dedicated to her studies. She is currently on her victory lap at St.Marys High School but will be attending Brock University for business in the fall. One of her greatest goals in life however is being able to make a change for the better, in not only her life but others lives as well, and this project is just the start.

HEATHER MAJAURY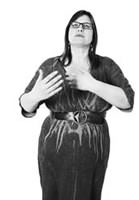 Heather Majaury is an actor/director/playwright/joker who is passionate about interactive and forum theatre because she sees it as a powerful and positive way to evoke personal and social transformation. She is particularly honoured to work on this production because it is carrying such an important violence prevention message. Her daughter was an active and proud member of her school's GSA and working on this show has really enlightened Heather to the important work these organizations do within our schools and to the beyouty of her own daughter. Heather most recently wrote and performed a one woman show entitled This is My Drum with Kaleidoscope Collective in Waterloo. She is an active Artistic Associate of MT Space in Kitchener and past Producer of IMPACT International Theatre Festival. She recently received her Masters in Theatre Studies from the University of Guelph.
JOAN CHANDLER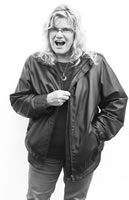 Playwright, director, producer. I've worked with many many youth in this part of rural Ontario. Kids have told me for years that homophobia is a pressing problem, but that it was too risky to create an interactive play about it. They feared violent reprisals. But in the last couple of years, Gay Straight Alliance leaders said that LGBTQ issues and particularly homophobic bullying are things that students are now openly asking questions about. It's important to be leaders in the discussion. And the kids agree. Now, the time is right. Sheatre has the theatrical tools to enable safe, honest conversations. I'm glad to help.
Since 2013 david sereda, Anna Gaby-Trotz, Joan Beecroft and I held a series of workshops with about 50 young people in Grey-Bruce-Owen Sound that led to the creation of the basic scenarios, songs and characters in Be Our Ally. I distilled that into a script and added new scenes to give context and deepen the characters, all with a specific focus on creating a strong forum. Then we brought together an amazing cast and resources to bring it all to life. It's been a long journey to get here. The rewards are very satisfying.

Facilitators: Heather Majaury, david sereda
Director: Joan Chandler
Music Director: david sereda
Stage Manager: Carol LeNestour

Script by Joan Chandler and youth from Grey and Bruce Counties
Music by david sereda with youth

Advisor and Support Person: Joan Beecroft
Photographs: Hope Fahner (locations) and Anna Gaby-Trotz (portraits)
Set Construction: John Moulton

Thank you to the supporters of our 2015 tour:

The Bluewater District School Board
The Community Foundation Grey Bruce
Investors Group (Ron Todd), Meridian Credit Union
OSSTF District 9, UNIFOR Local 1106, ETFO Bluewater, ETFO-OT Bluewater
CMHA Grey Bruce, Child & Family Services Grey Bruce,
Liz Zetlin, Avenue A Advertising



Project Development was financially supported by: Canada Council for the Arts, Ontario Arts Council, Justice Canada's National Victims of Crime Awareness Week 2014, The Ontario Trillium Foundation, Community Foundation Grey Bruce, OPSEU Locals 260 and 224, UNIFOR Local 1160, and EFTO Bluewater Local. We also thank the following for their in-kind support: Bluewater District School Board, Peninsula Shores District School, ARCH (HIV/AIDS Resources and Community Health), Tom Thomson Art Gallery, Music and More, PI Creative Art, CMHA Grey Bruce, Grey Bruce Public Health, Joan Beecroft, David McLeish, Louise Moore, and all those who contributed to the project's development, including their families and friends.